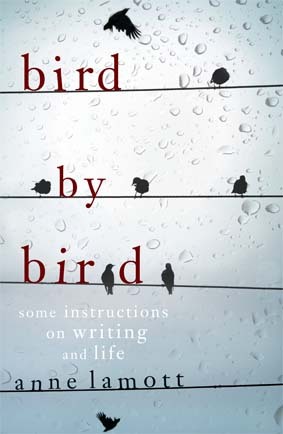 Bird by Bird is Anne Lamott's reflection upon her writing and teaching career and the various ways in which she teaches others to improve their writing. Lamott does not in particular focus on delivering highly technical ideas – she does not explain all the logistics of grammar, spelling or using a highly elevated vocabulary. However, her writing focuses upon the lifestyle and methods of writing that prove to be helpful – her ideas always boiling down to the importance of understanding why, when, where and how as a writer you write.
Anne Lamott discusses such topics as drafting, dialogue, editing, being involved in writing groups, having individuals around who can read your drafts, and even the process of publication. The first half of her work focuses upon the idea of exploring the reasons behind writing, a theme emphasised again in later sections. Essentially, this is a work of advice – as Lamott herself says, such advice is gained from her own experience, but such an experience may not be true to everyone.
Anne Lamott's work is a best seller in the area of writing advice, and has been since its publication. It is easy to see why – given that her advice is delivered in a reflective, humorous and conversational tone. Lamott expresses her writing philosophy – that writing is about reverence to the subject, but yet is clear that to be reverent may require some irreverence in the form of lampooning, sarcasm or subtle wit. Her philosophy centers around the notion that the writer must be true (reverent) to themselves and to the idea of writing – that a writer cannot write for the sake of writing, but must write to artistically express their ideas, desire, and ways of seeing the world.
To Lamott, anyone can become a writer – not necessarily the greatest writer of all time, but a writer capable of expressing their view of the world with paper and pen (or keyboard and screen in the modern setting). Writing for her is about looking at the world and writing about everything that can be seen and everything that is hidden. She remarks that it is excellent and fine to begin terribly at first (in the drafting stage) because only from first efforts can improved second efforts exist.
"Almost all good writing begins with terrible first efforts. You need to start somewhere."
As an author, Anne Lamott expresses advice heard from a variety of other authors. She explores how difficult it is to get published. She notes that it is best for a promising author to write as much and as often as possible (as often the fourth or fifth published book is the work that brings in money). Lamott discusses that a writer can be inspired by reality but should avoid direct libel by changing features of an individual so they will not claim such a person is their good selves.
In essence, Bird by Bird is a book that is a must read for all developing novelists. It is a work which is insightful and encouraging, but also incredibly honest and truthful about the necessity of overcoming the doubts, loneliness, perfectionism, and other difficulties of being a writer. As Lamott notes – the essence of writing is to go one step at a time:
"Thirty years ago my older brother, who was ten years old at the time, was trying to get a report on birds written that he'd had three months to write, which was due the next day. We were out at our family cabin in Bolinas, and he was at the kitchen table, close to tears, surrounded by binder paper and pencils and unopened books on birds, immobilized by the hugeness of the task ahead. Then my father sat down beside him, put his arm around my brother's shoulder, and said, 'Bird by bird, buddy. Just take it bird by bird.'"